Touristic information
Bulb season
The bulb region is known for the most beautiful bulb fields. Starting in March, the flower season begins. The season starts with the beautiful fields of daffodils and hyacinths. From April the colorful tulip fields can be admired. The Dahlias bloom from August until deep into autumn. See the beautiful dahlias in various show gardens and don't forget to buy a bunch of flowers along the way.
During the flower season, of course, there is much more to see than just the bulb fields. Visit the Keukenhof and De Tulperij, for example!
Keukenhof
Keukenhof is Europe's most famous flower park with a variety of activities for young and old. Enjoy a peaceful boat ride through the flower fields or discover the highlights of the park with a guide. There is also plenty to do for the kids! Keukenhof is about a twenty-minute drive away. Read more information here.
Tulperij
The Tulpery is a flower excursion in Voorhout. During the excursion you will hear all about the growing process of the bulb and the flowering of the fascinating flower: the tulip. Of course you will have plenty of opportunity to take those coveted pictures among and of the flowers. In fact, the Tulperij has several tulip fields and a show garden. The Tulperij is about fifteen minutes away. Read more information here.
Flower Map
Check the Flower Map below to see if the bulb fields in the bulb region are already in bloom. This map updates the bulb fields every week starting in March.
Legend:
Green icon: Bulb fields | You may NOT enter these bulb fields
Orange icon: Flower attractions | You may walk through these bulb fields
Pink icon: Sights
Light blue icon: Parking lot
Tip!
Rent an (electric) bicycle or e-chopper to explore the area. The Flower Map features the Bollenstreek Flower Route. This route passes by the flower fields, as well as the dune area and the beach. Check out other different routes in the area below.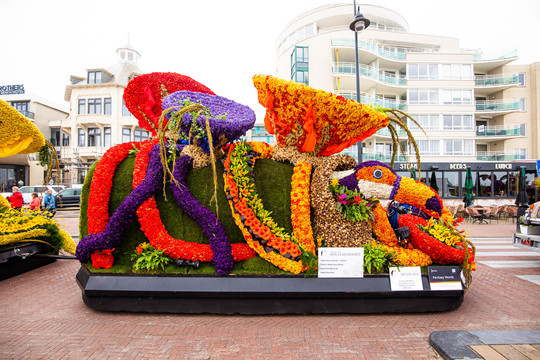 Flashback to the flower parade
We look back on another great edition of the Flower Parade last Saturday, April 22, 2023. Our float "Fantasy World" this year symbolized the freedom to dream away and escape reality for a while.
Go on an hour-long excursion at the Tulpery in Voorhout in spring! Enjoy the tulip fields and show garden together with Daan or Anja and step into the wonderful world of tulips, daffodils and hyacinths.